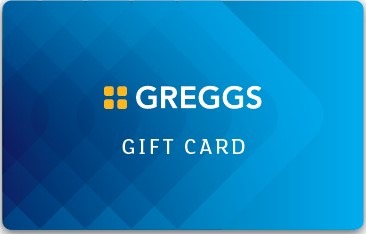 Can be used: In-Store.
Greggs e-gifts are perfect for all sorts of occasions. Whether it's rewarding staff, delighting a customer or showing a friend or family member that you care! Treat them to the most special gift of all…. Sausage rolls!
Well, we know our Sausage Rolls are pretty iconic but that's not all we're famous for. We've been recognised as Britain's favourite sandwich retailer (NPD Crest) and our freshly ground, ethically sound 100% Fairtrade coffee. We're the 3rd biggest coffee seller in the UK selling over 2 million coffees a week. (Yes, us!) Then there's also our freshly baked savouries, mouth-watering doughnuts and snacks to spend your gift card on. Our roots are firmly in the North East but these days we're all over the UK with over 2000 shops so there's plenty of opportunities to come and pay us a visit. From Inverurie to Plymouth, Belfast to Bury St Edmonds. Oh, and in case you're wondering, it'd take 6.8 million Sausage Rolls to get from Inverurie to Plymouth.
Now to answer the two most important questions, do Greggs do gift cards and where can I get one?
Yes, they do, and you can get them right here!
Delivery
Digital eGift Card - print and gift yourself or we'll email it directly to the giftee with a personalised message.
Bulk Buying
Are you looking to bulk buy Greggs eGift Cards?
We offer a fast bulk buying service. Contact us to find out more.
Important Information
Greggs eGift Cards are non-refundable.
Greggs eGift Cards can't be used online.
Greggs eGift Cards can be used in-store.
Greggs eGift Cards can't be used via Phone.